WHMCS Secure Credentials (WSC)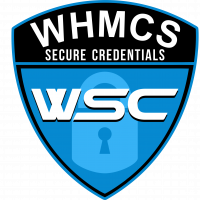 WHMCS Services has partnered with Dev GB.
Collect & Protect
customer information with WHMCS Secure Credentials (WSC). WSC is an add-on module that will provide a secure area for your customers to share sensitive information like service passwords or application details with your support team. Most WHMCS users use no encryption or a simple text box for users to enter details about their services, this is insecure and looks unprofessional. It does not promote your business as caring about your customer's data. With WSC Pro, users can share any type of information in a secure form, the information is then
encrypted
using a unique encryption key chosen by you. Information left by customers is then automatically
decrypted
and displayed directly on the WHMCS ticket using the unique "Credentials" tab. The end-user can choose to remove the details or, once the ticket has been marked as completed and closed WSC will remove the details from your database automatically.
What's new in WSC Pro?
WSC Pro now supports multiple languages
Change any of the text seen by customers frontend
Option to choose when the credentials form is displayed at ticket submission based on department
WSC Pro now displays a success message when a customer leaves credentials
New ticket update feature allows messages to be posted to tickets automatically after x hours based on department and ticket status
Urgent & Escalate feature can only be used once per ticket
Multiple Language Support
WSC Pro can be used in any language by editing the included lang file. Change the text seen frontend to your local language or update the text displayed on a button.

Automatically Collect Credentials
WSC Pro can help ensure that your support team has all the correct information to deal with your customer's support issue right out of the gate. By enabling the automatically collect credentials option after ticket submission your customer is taken directly to the credentials form. You can restrict who sees the credentials form by department. If you have a sales department you can exclude tickets submitted to this department from being taken to the credentials form.

Supply Credentials Reminder
Should your customer not complete the credentials form after ticket submission, WSC Pro can post an update to the WHMCS ticket with a custom message reminding your customer to leave credentials for your support team. This reminder can be based on the department the ticket was posted to, the ticket status, and you can even choose what WHMCS administrator is used to post the message.

Unique Credentials Tab
WSC decrypts any information left by your customer when one of your support team members click the unique "Credentials" tab which is installed on the WHMCS ticket. This allows you to switch between the "Add Reply" and "Credentials" tabs with ease.

Urgent Ticket
If enabled in the WSC Pro configuration, WSC deploys an "Urgent" button to the support ticket sidebar. Should your customer need immediate or emergency assistance they can flag the WHMCS ticket as urgent which notifies all WHMCS administrators your customer needs assistance.

Escalate Ticket
If your customer is unhappy with the service they have received usually they will cancel. WSC can help to prevent this by deploying an "Escalate" button to the WHMCS support sidebar so your customer can choose to escalate their ticket to a manager allowing you to resolve problems before the customer cancels their service.

Ticket Updater
With the ticket updater feature, WSC can automatically update tickets with a custom message based on department and ticket status. Some of the uses of this feature could be;

After 12 hours post an update to the ticket and then close it.
1 hour after a customer submits credentials post an update to the ticket then set the ticket status to In Progress.
Remind the customer your awaiting their response 8 hours after the support team last responded.
Post an update to tickets submitted to the "Support Department" saying that there is a large volume of requests being received and a delay might be seen in the team responding.
Custom Credentials Form
You can choose what information you collect from your customers by editing the credentials form. The credentials form allows for text boxes, text areas, and password field types. You can hide unused sections and update the name of the fields to anything required.

Administrator Notifications
WSC will email WHMCS administrators when certain events happen. When your customer completes the credentials form WSC can set that ticket status to a custom value but WSC will also email all administrators notifying your support team information has been attached to that ticket.

Unique Design
No two installs of WSC are the same. To increase security you choose your own encryption key which is used to encrypt and decrypt your customer's information.

Additional WSC Pro Features
Clients can update the credentials given at any time
Clients can withdraw access by deleting the credentials given
Support team members can import credentials and attach them to tickets
Search for credentials using the ticket number
Include the default WHMCS Sidebars on credentials form
Supports Font Awesome 5
No need to edit any template files. WSC will make all modifications for you. Just upload the module and go!
Professional design
Supports PHP 7.4, and 8.1
Plus more
Price: $29.99 Annually
WHMCS Services clients can get a 25% discount if you purchase this module! Enter the code "GK3PA91YDA" at checkout
Order of this product is only available via Dev GB website, that is why you will be redirected to their order process.
Order Now