Home
:
WHMCS Addons & Modules
WHMCS RankPay Partner Stats 1.0
RankPay SEO Service
>
The RankPay WHMCS module makes it incredibly easy for web hosts to sign up their hosting customers for SEO services, thus building additional reliable and recurring revenue. By featuring a promotional banner in every customer's instance of WHMCS, you'll get a targeted ad right in front of your customers when they're logged into WHMCS. When a customer signs up for our SEO services, you'll receive a notification and start earning recurring revenue as soon as their account becomes billable.
Module is recommended by RankPay. Read more on the official RankPay website
To learn more about RankPay, visit https://www.rankpay.com
Feature:
Simple and FREE sign up
Recurring revenue for the life of the customer
Tiered payouts, the more referrals you send the higher % you make
If you don't rank, you don't pay.
Hands off, requires little to no work on your behalf
Built in sign-in process to track commissions and clicks
Requirements:
Compatible Templates - Click Here
Other Themes not full tested yet so I am not sure if it works or not. You can contact me first Click Here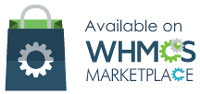 Are You Interested In Custom Development for WHMCS?